We Keep Going Back! Villa San Pee Seua Resort Chiang Mai Is Something Special
We and our friends just can't get enough of this resort. There's something almost therapeutic about staying here.. oh wait! Maybe that's because of the massages on the lawn by the river! Villa San Pee Suea is located in Chiang Mai and yet you'll feel world's away at this Northern Thai-styled resort and incredible hospitality.
Check out our other personal recommendations in our post about the best family places to stay in Chiang Mai.
[sharethis-inline-buttons]
Why should you stay at Villa San Pee Seua Resort Chiang Mai?
It's a gorgeous, nearly unbeatable setting along the Ping River. There's a huge lawn where you can relax and eat breakfast or lunch and have professional massages under the shade of the trees.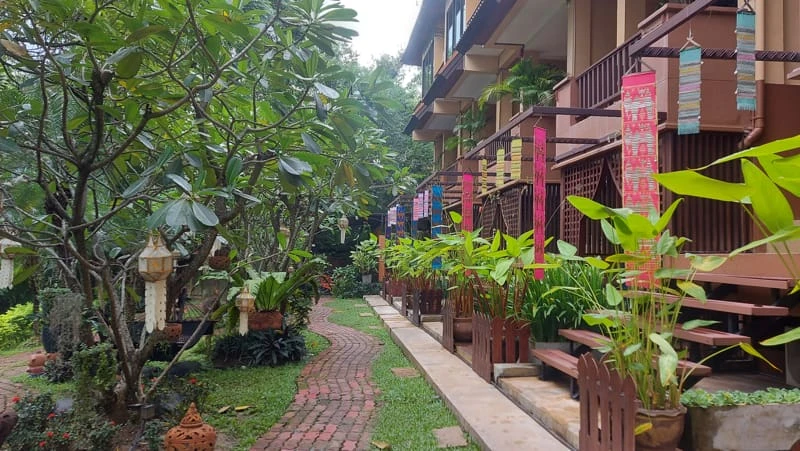 The resort itself has a garden feel to it with most rooms facing the garden and riverfront. Also, each room on the riverside of the resort has a private veranda or porch for you to sit and relax and enjoy the stunning views.
The swimming pool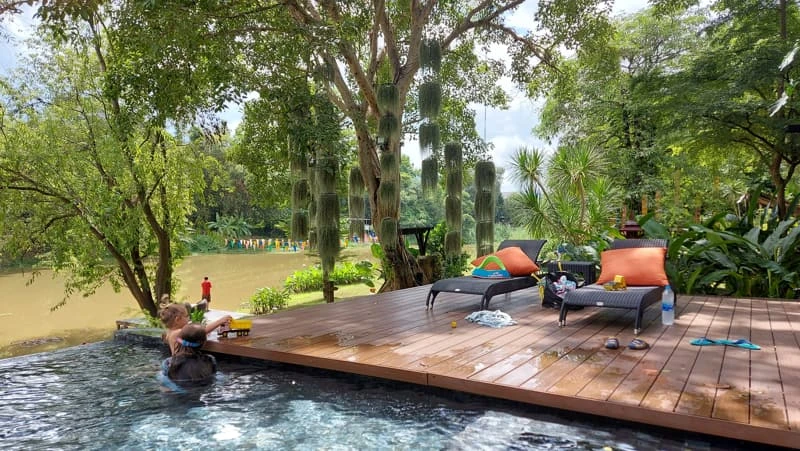 This pool just makes people happy. I mean look at it! It also has a kiddy pool section which is great for kids learning to swim and is located under the shade of the trees right by the river.
The activities you can do
Villa San Pee Seua Resort Chiang Mai offers so much for families to do while you stay here. Kayaking is available at no extra cost! There are two kayaks that you can take out, although they had limited life jackets. It was such fun to cruise the Ping River.
There's also fishing including bait. Also at no extra cost! This is great fun no matter if you catch a fish or not. Just mind you don't get caught in the reeds!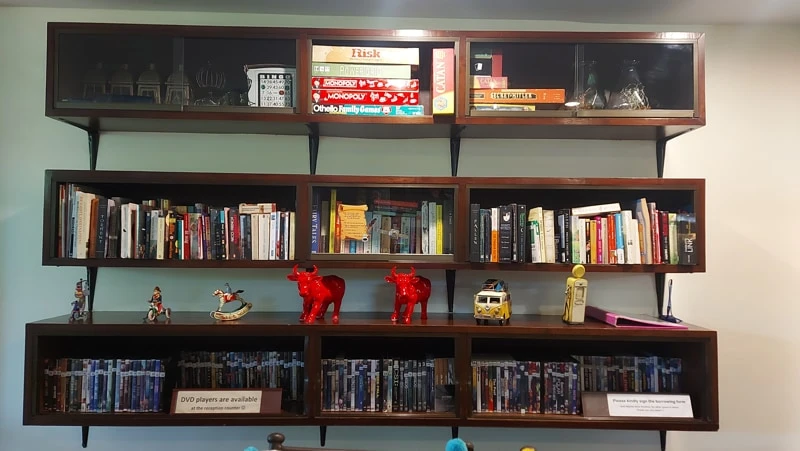 In the main hangout area is a big selection of books, DVDs, and board games. Each room has a DVD player (so you can introduce younger children to that now ancient tech lol). The board games are popular English ones as well.
To get around this part of town it's popular to do so by bicycle. Villa San Pee Suea has bicycles for you to take out, completely free, and explore. No kids bikes I'm afraid, so this is for bigger kids, adults, or teenagers only.
What are the rooms like at Villa San Pee Seua Chiang Mai?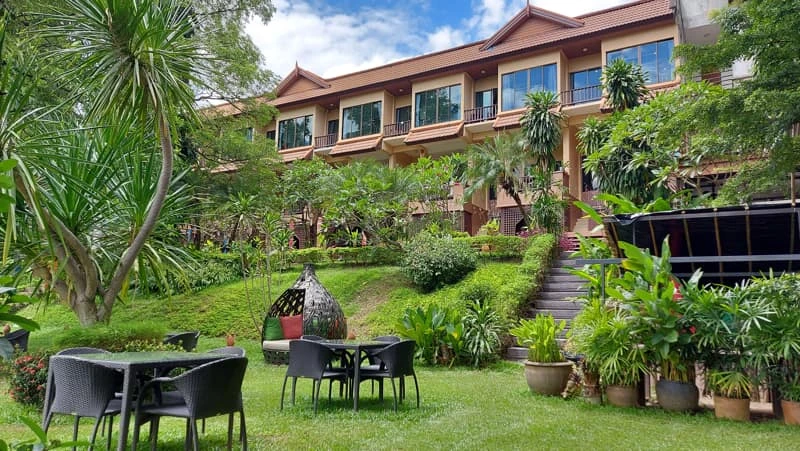 Rooms are situated along the bottom and first levels. The second and third levels are where you can find the townhouse rooms! We've stayed in both options and if you've got a large family, or friends staying with you, we highly recommend the townhouse.
This the main master in the townhouse and there are 2 other bedrooms as well. A family of up to 7 could easily sleep here plus they have extra beds.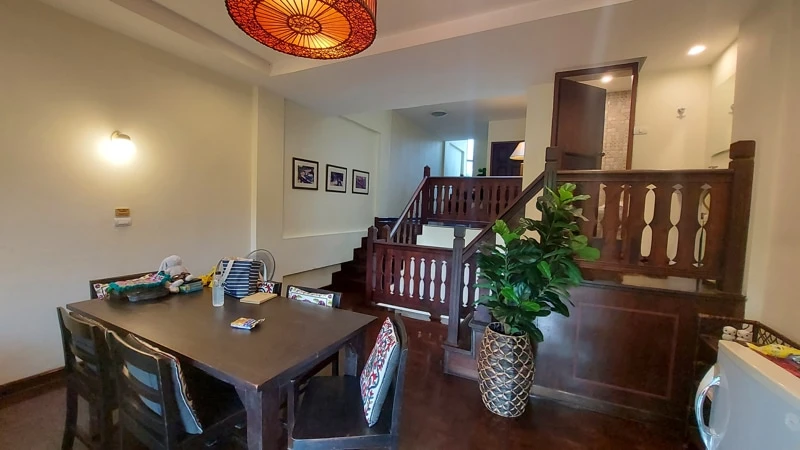 On the first level of the townhouse is the common area with a small kitchenette, a TV, bathroom and one bedroom. It's a great communal place to hang out and you can order food to your room.
The single bedrooms elsewhere in the resort look like this. They have twins or large beds decorated in beautiful traditional Northern Thai Lanna style.
Rooms prices
You're going to get the best value for your money staying here. Prices are consistent year-round and you get rooms here starting at 900 baht a night or less! This includes every thing mentioned above! Breakfast is a bit extra but worth it.
What's the food like here?
Amazing. The food is delectable. If you have time, order the ribs. They must be ordered in advance. The burgers and pasta are also delicious and kid friendly.  The Thai food is great too.
This is the best resort for families to stay at in Chiang Mai
We hope you can make it out to Villa San Pee Seua Resort on your family travels or adventures. If this doesn't quite fit what you're looking for, see other great hotels to stay at in Chiang Mai with kids.
Where is Villa San Pee Seua Chiang Mai Resort located?
Location on Google Maps.
The resort is located about a 15 minute drive from the centre of Chiang Mai. We suggest that if you are visiting, you may want to hire a songtaew, or take a taxi to get here. Otherwise, get that GPS out and get driving!