Horizon Village And Resort Chiang Mai Is A Park Paradise!
Just north of the old city in Doi Saket is Horizon Village, a resort within a garden park. There's so much for the family to do here that you don't even need to leave the resort!  There's a hedge maze, a petting zoo, multiple playgrounds, two swimming pools, bicycles to ride, and more!
The resort is attached to the Tweechol Botanic Gardens which is open to the pubic click the link to see even more things you can do here when you stay.
Check out our other personal recommendations in our post about the best family places to stay in Chiang Mai.
[sharethis-inline-buttons]
Why should you stay at Horizon Village and Resort Chiang Mai?
This is not your regular resort! This place was built for kids and families in mind with so much to do you'll be able to spend an entire day here and not want to leave! There is so much to do that the whole family will enjoy.
The many playgrounds

There are playground spread out across this huge garden resort. Each offers something different for each age group so that kids of all ages will find something to play on.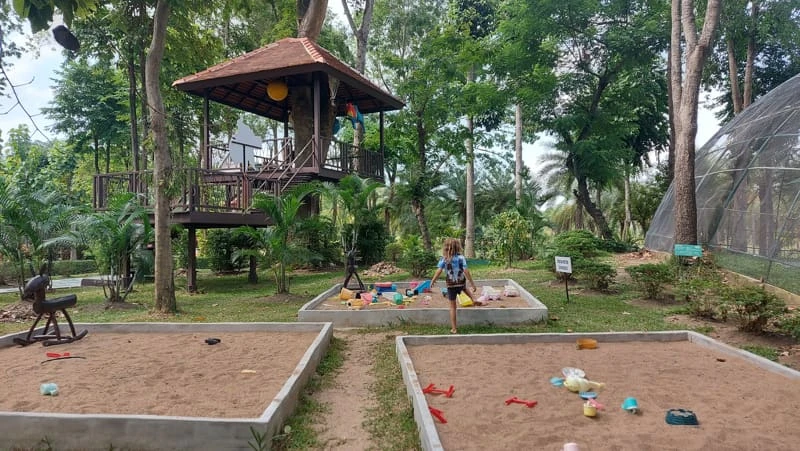 The playgrounds do have shade or a covered area which is nice for parents who might just want to relax while the kids play. Or maybe you want to play too!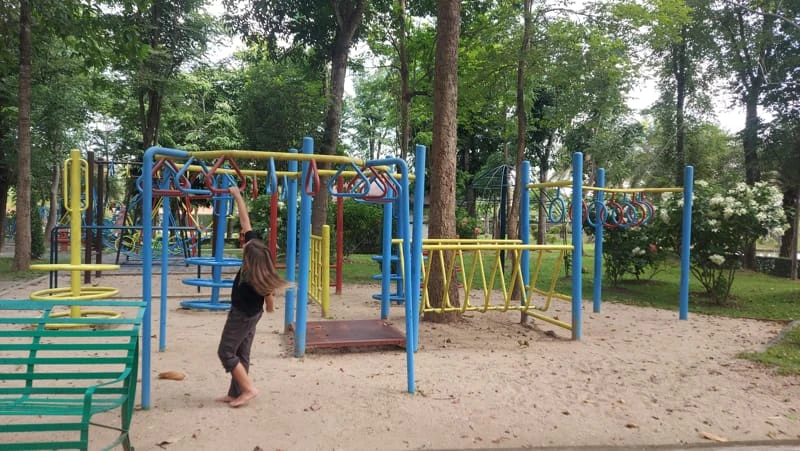 There are actually even more playgrounds and play areas, but you can explore when you stay!
The petting zoo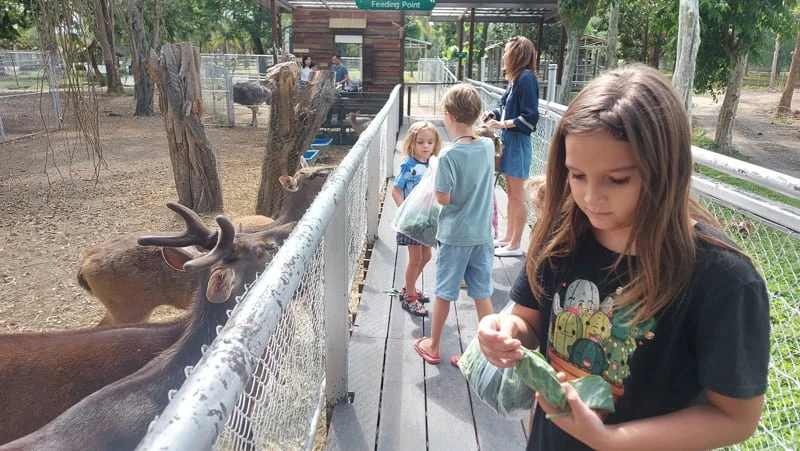 What other resort has a petting zoo?! Not many. At Horizon Village and Resort you can feed deer, ostriches, camels, buffalos and more! The food costs a minimal 20 baht per food bundle, or sometimes it's free when the workers come around for feeding time.
The pool with a waterslide!
The rooms
The rooms are large with options for extra beds, cribs or king size beds. Some rooms have bathtubs too. I would say the rooms aren't anything special, but it's the incredible amenities for the kids that make staying here worth it.
Room prices
The prices for resorts all over Thailand fluctuate with the seasons. Prices are highest in tourist season, October to March. It's best to research prices for Horizon Village and Resort here. The prices when we stayed were around 2,000 baht per night.
What's the food like at the Horizon Village and Resort Chiang Mai? 
There's plenty of food choices here! There are two restaurants and a cafe to choose from. Each serves all kinds of international food so everyone will be fed and happy. Prices are reasonable as well.
It's one of the most interesting family resorts to stay at in Chiang Mai
We hope you can make it out to Horizon Village and Resort on your family travels and most of all we hope you enjoy your stay here! If you don't stay here, remember you can also visit for the day at Tweechol Botanic Gardens.
Where is Horizon Village and Resort Chiang Mai located?
Location on Google Maps.
Horizon Village and Resort is about a half an hour to 40 minute drive from the centre of Chiang Mai. We suggest that if you are visiting, you may want to rent a car, hire a songtaew, or take a taxi to get here. Otherwise, get that GPS out and get driving!