Granary Resort Chiang Mai Is An Oasis
Just north of the old city and right next to the Ping River lies Granary Resort. It's a stunningly beautiful place with huge trees and antique Lanna style homes which you stay in. There's a play area for kids and of course, the incredible pool!
Check out our other personal recommendations in our post about the best family places to stay in Chiang Mai.
[sharethis-inline-buttons]
Why should you stay at Granary Resort Chiang Mai?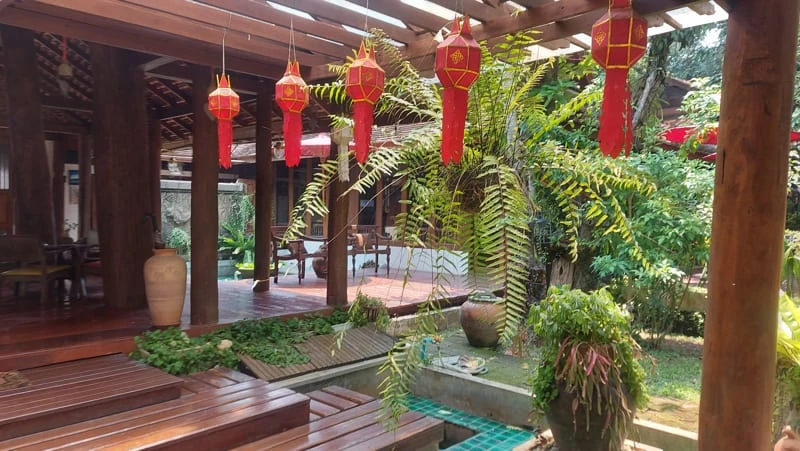 Right from the entrance you are met with Lanna luxury and great service. You'll be given a welcome drink and registered at the hotel. The kids can wait and play in the nearby sandbox. They owners really respect your privacy so you will be largely left alone. If you ever need anything, you just ask at the reception or restaurant (which has amaaaazing food by the way!)
The play area

There's a sandbox with toys which is right next to a cafe and plenty of space to run around, I mean look!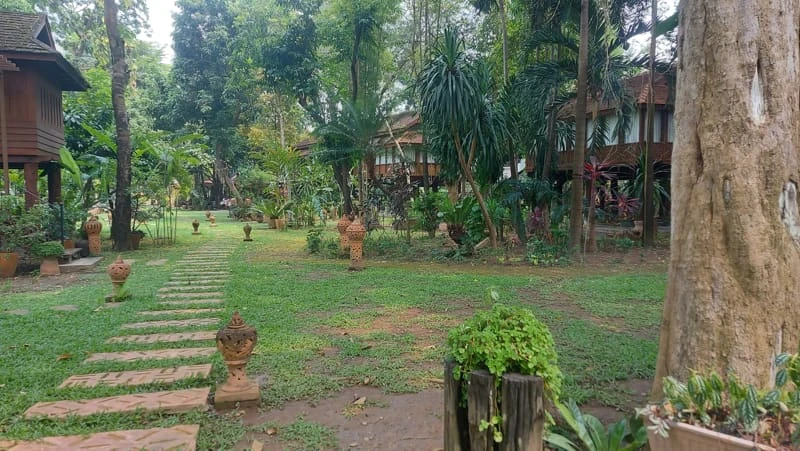 Those are the 'rooms' you'll stay in. Really, they are little houses which make you feel like you're in a different world. Let's take a look at the rooms now.
The rooms are incredible
This was the room we stayed in which was right next to the river. I have to say I felt like some sort of princess the entire time prancing around the enormous room. Not all rooms are this large, but it is the family room.
I wish the camera could've captured the essence of the room better! The posted bed was divine and there's an extra bed, which is actually much larger in real life. Two small kids could sleep on it. Extra beds are available too.
And then there was the bathroom! My god is was the biggest bathroom we'd ever seen. There's a bathtub too the right as well with a view of the river.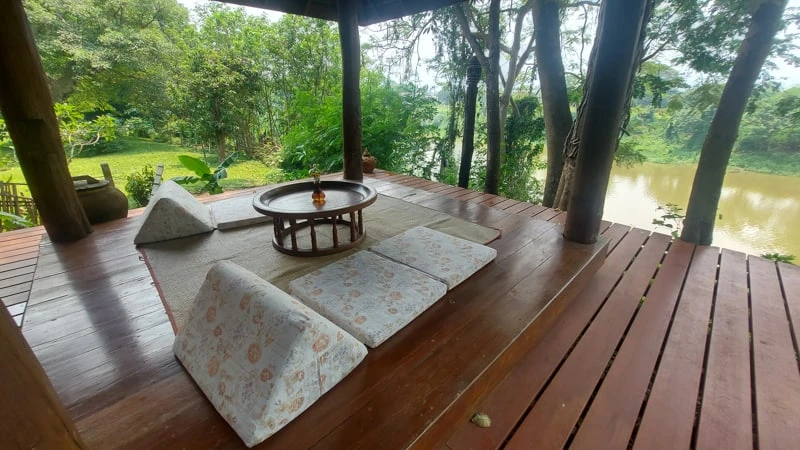 Our veranda looked like this with Lanna style mats where we hung out and played card games. There were hardly any mosquitoes as well which was a surprise! 
The swimming pool and riverside
The pool has a kiddy pool area, a deeper end, and then an overflow pool. Lounging on the deck, there were so many options and the view to die for. You can also sit by the riverside.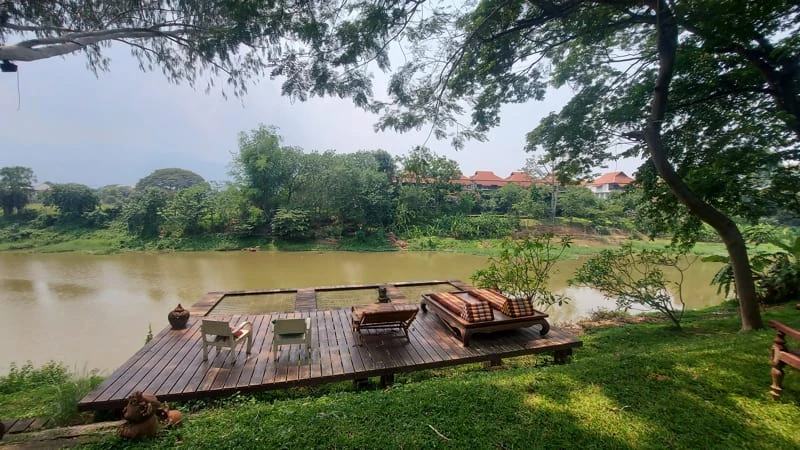 Staying at Granary was just such a relaxing experience for everyone. You could order food and drink and have it brought to you poolside or riverside.
Room prices
As with most hotels and resorts in Thailand, the prices fluctuate with the seasons and are highest in tourist season, October to March. It's best to research prices for The Granary Resort here. The prices we were quoted were around 2,500 baht per night.
What's the food like at The Granary Resort Chiang Mai? 
Fair warning, if you have picky kids food wise, this likely isn't the resort for you. They offer the most delicious Thai food although they do have French fries and chicken wings. 
It's one of the most gorgeous family resorts to stay at in Chiang Mai
We hope you can make it out to The Granary Resort on your family travels or adventures and most of all we hope you enjoy your stay here!
Where is The Granary Resort located?
Location on Google Maps.
The Granary Resort is about a 25 minute drive from the centre of Chiang Mai. We suggest that if you are visiting, you may want to rent a car, hire a songtaew, or take a taxi to get here. Otherwise, get that GPS out and get driving!