Looking for the beach?!
Huay Tung Tao Lake is the closest thing to a beach you're going to get in Chiang Mai
Spend a fun day out with the kids at Huay Tung Tao Lake Chiang Mai. There is so much to do here you'll find yourself coming back again and again. It's one of the best family attractions near the city and at only 50 baht entrance, it makes for an affordable family day out because kids are free to enter!
Huay Tung Tao Lake Chiang Mai has so many kid friendly and family friendly activities to check out. Find out all the amazing things to do with your family at the lake in Chiang Mai.
[sharethis-inline-buttons]
Is there a beach in Chiang Mai?
Yes! It's just not exactly what you're imagining. When you think of the beach in Thailand, you imagine beautiful blue water and white sandy beaches that stretch on forever. At Huay Tung Tao Lake Chiang Mai, you're going to get a rustic more natural version of a beach.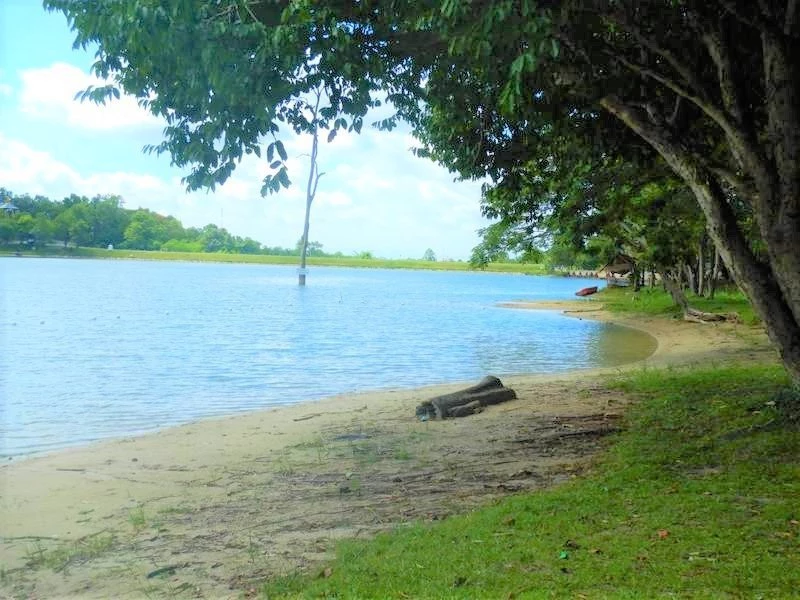 This portion of the beach can be found on the back side of the lake, pretty well opposite to where you first enter the lake park. There is plenty of parking on this side and it is safe to swim here too!
Family fun and swimming at Huay Tung Tao Lake Chiang Mai
Swimming in the lake can be great fun! The lake is actually the result of a man-made reservoir. It has a nice sandy bottom at all the swimming spots and there are buoy lines that mark the safe areas to swim in.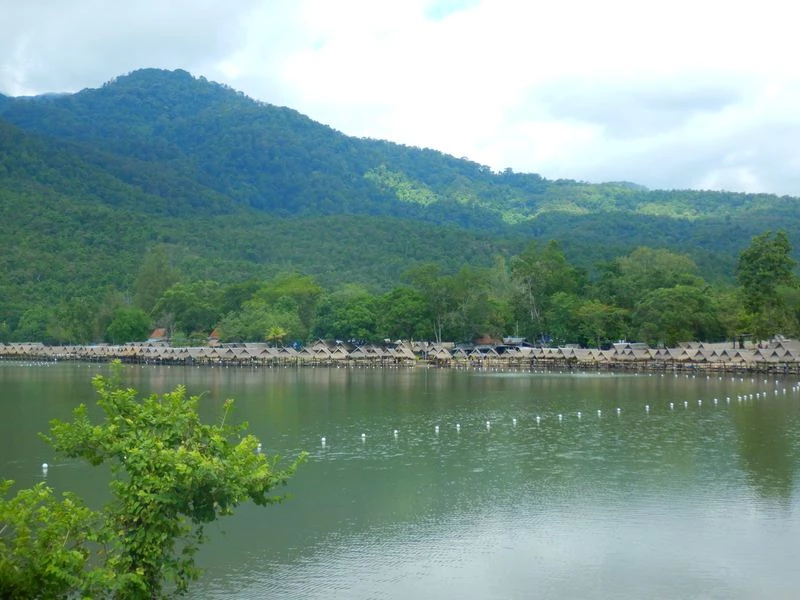 Is the water deep?
As for water depth, that depends on the season. The lake's water levels are lower in hot/dry season and higher in rainy season. These images are all taken in the rainy season when the water rises so that all the huts that line the lake appear to be floating in the water. In the dry season, the huts all sit along the beach that lines most of the lake.
The water is very shallow as you enter it and there are no drop offs. On this day the water was up to my daughter's shoulders. If the water depth is a worry, feel free to bring your own water floaty toys or rent an inner tube!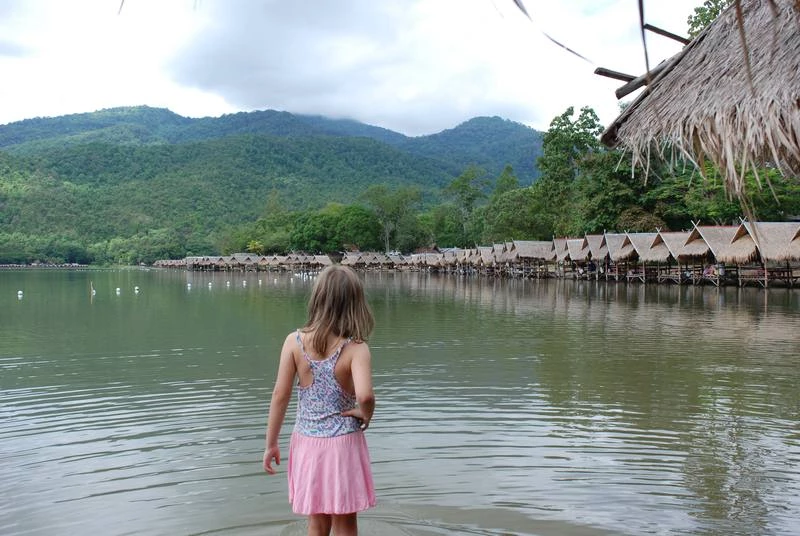 Rent an inner tube
Renting an inner tube is an absolute must while at the lake! They come in two sizes, large and small. You pay a small fee to rent them for the entire day. A small tube is 40 baht and the large one is 80 baht. The kids will love it and you will too! Grab a beer and go for a float 🙂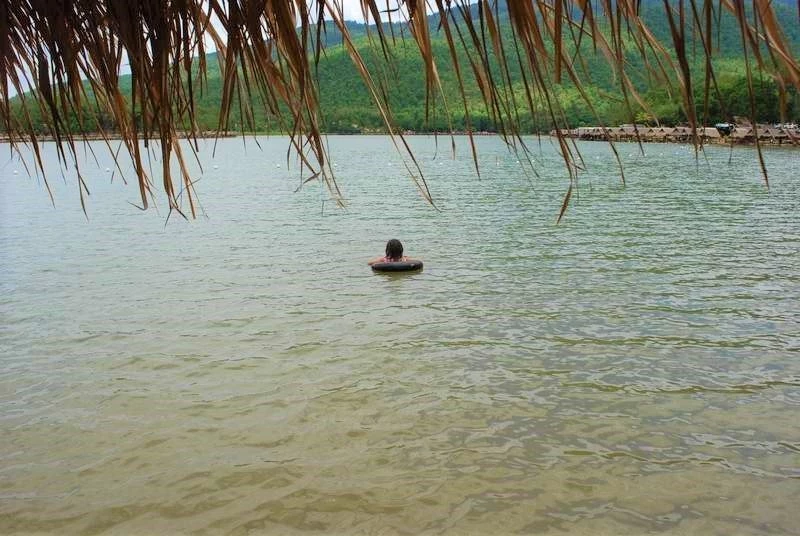 Is the water safe to swim in at Huay Tung Tao?
If you're not used to lake water, the colour might put you off, but that's just what many natural water sources look like – brown and silty! It's definitely not water you want your kids putting in their mouths, but it's completely fine to swim in. Just make sure you or the kids don't have any open wounds, but that goes for any open water swimming.
Are there lifeguards?
Sorry guys, there are no Baywatch babes waiting in their lifeguard chairs to come to your rescue, but there are first-aid trained staff that keep an eye on lake goers from their speed boat. The speed boat tours around all the swimming areas keeping an eye on swimmers and making waves! The kids would scream in glee every time the boat would come by as it created waves that would crash into shore.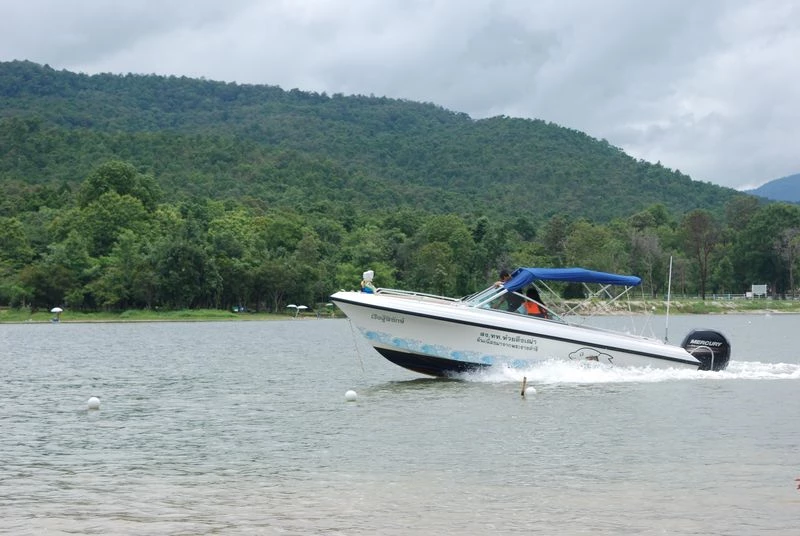 Other activities in Chiang Mai
What is there to eat and drink at Huay Tung Tao Lake Chiang Mai?
There are around 20 different restaurants to choose from at Huay Tung Tao lake all serving their delights in the huts that line the lake. Over the years we have tried quite a few. Most serve the exact same menu and menus are offered in English and Thai.
The most common dishes are local northern Thai dishes such as moo dot diao (sun dried pork), moo nam tok (spicy pork waterfall salad), deep fried fish, steamed fish, chicken wings, and tom tum soups. They also have French fries, but that's pretty much it for western food.
As for drinks, you should know that when buying a drink, be it water or soda pop, there are no small sizes. You will have to purchase the full 1.5 litre bottle. Same goes for beer, only large bottles are available! Be sure to ask which kinds of beer your hut serves as some only serve Leo, or only Chang. You can also request Thai whiskey by the bottle.
Can you bring your own food and drinks to the lake?
Absolutely! You can even have a family picnic if you wanted to. Even at the restaurants it's common to see people bring their own cases of beer and sometimes even food. You just need to purchase somethings from the restaurant to be able to use the hut.
Which hut area is the best to relax and eat at in Huay Tung Tao lake with kids?
We've got you covered for this! What you want to do is turn right once you've given in your park ticket and drive along the lake past the peddle boats, and keep going until you see this enormous open air roofed structure. It will have white posts holding it up and you'll want to turn left into the parking lot here.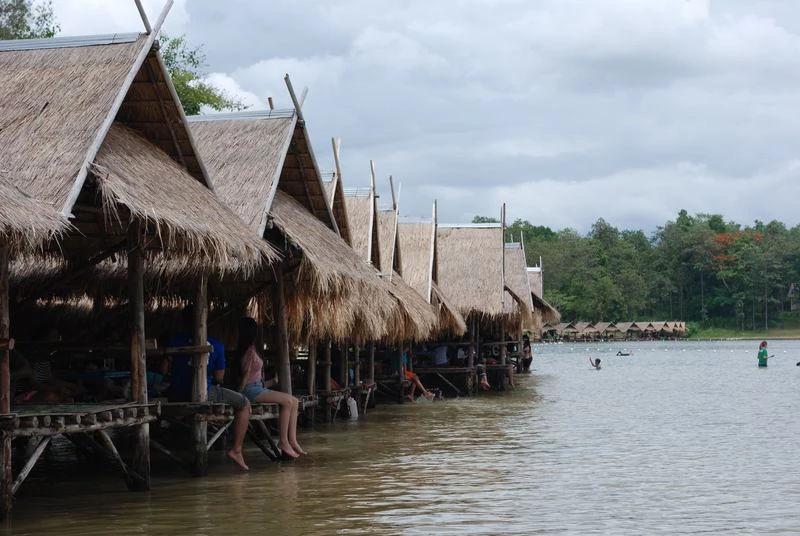 This land area of the lake is kind of in a U shape and the restaurant and huts area you want is near the bottom of the U, right at the tip. Here you will find restaurants #2 – #5 (they are all numbered so you can tell your friends to meet you at #2 for example). Any of these have great food, and best of all there's a playground for little ones!
If you're a family with teenagers, we still recommend this area as it has the restaurants with the best food and year round best swimming options.
Go peddle boating at Huay Tung Tao
Open from 9 am – 5:30 pm daily, check out Chiang Mai Water Trail's boats for rent. There are so many boats to choose from all rentable by the half hour or an hour. There are kids peddle boats, see-through canoes, huge peddle boats for the entire family, pontoon peddle boats and more. Prices start at 100 baht per 30 minutes and go up to 720 baht. Hourly rates begin at 150 baht and go up to 950 baht.
Check out Chiang Mai Water Trail's Facebook page for more info.
Feed the animals at Huay Tung Tao
There are plenty of fish to feed in this lake! Keep your eyes out for fish food stalls and feed the fish that you may later eat the restaurants. I'm not sure, but I have a feeling that all fish served come straight from this lake. Fish food costs 20 baht per bag.
You can also feed sheep! I'm not certain how long this will be an option for as it was a brand new set up when we were there, but over towards the north side of the lake is where you will find the sheep and gorillas. No really, there are gorillas!
A perfect spot for some gorilla selfies
This entire set up is so random and is yet another reason why we love Chiang Mai. Enormous animal structures have been erected from wood, wire, and what looks to be hay and bamboo. Some of the creatures you can even climb up or into, so get those cameras ready and start that posing!
It's actually pretty amazing how some of these art pieces came out and have stood up to time. I think this attraction has been here for more than 2 years and it's holding up pretty well.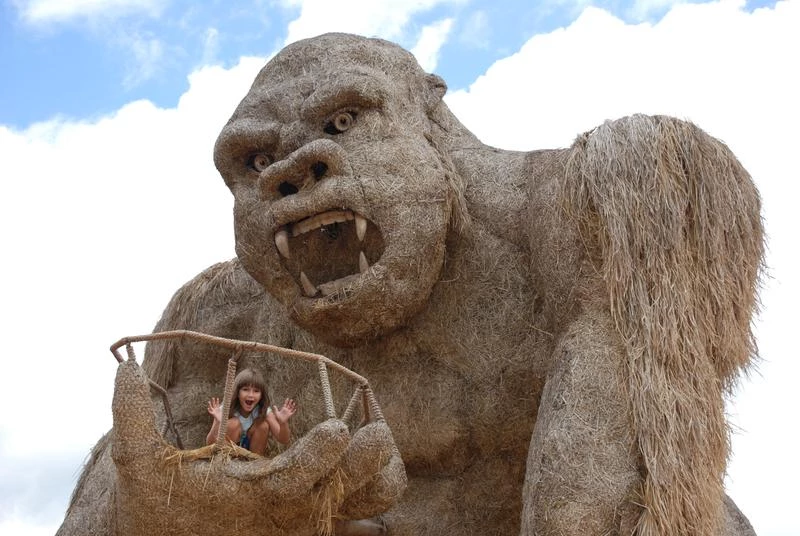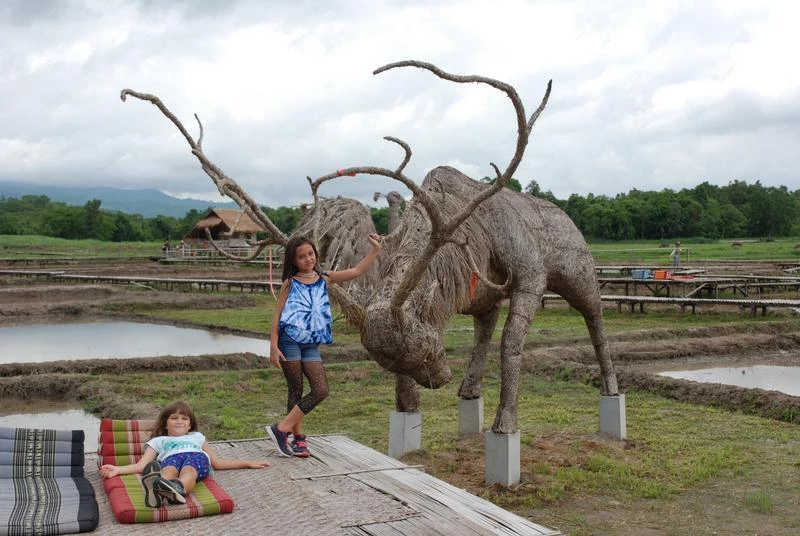 Zip lining is also an option, although we couldn't tell if it was still in operation. The outfit shop was still there and the zip line is all set up, but there were no advertisements for it any longer. Could still be pretty fun to zip across the lake though!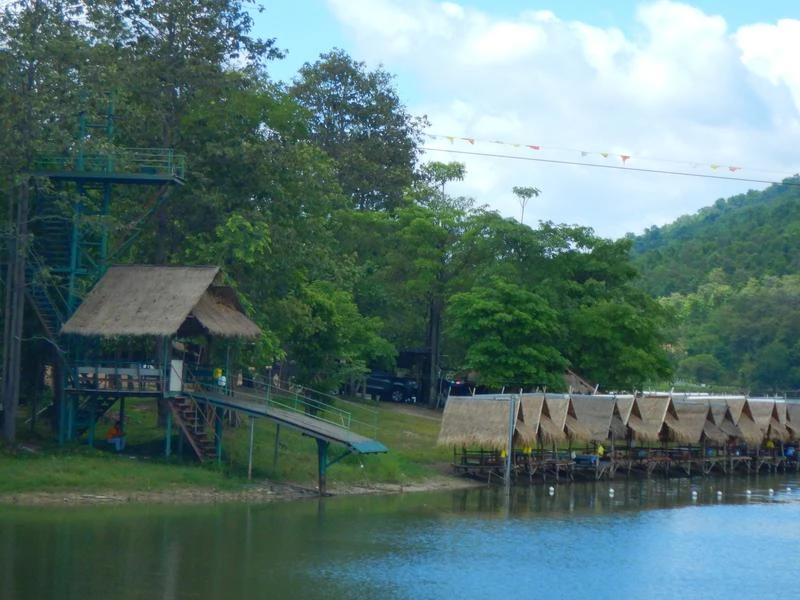 This family attraction is also completely free and you are welcome to spend as much time here as you please relaxing in one of the bamboo huts that even has an electrical outlet so you can charge your devices if needed. There are even Thai pillows to sit on!
Huay Tung Tao Lake Chiang Mai is a great place to ride your bicycles 
If you are a local family, definitely get your bike rack out and bring your bicycles to the lake. Huay Tung Tao is one of the best places to ride your bikes in Chiang Mai. We came around 9 am to beat the humidity and had the nicest ride around the entire lake. At that time of day the roads were essentially empty of traffic so we were safe to go where and as fast or slow as we pleased!
Alternatively, there are really nice paved running and cycling paths just outside the entrance to Huay Tung Tao. As you turn off Canal Road (the 121) to head towards the lake, keep an eye out for a parking lot just at the end of the temple on the right hand side of the road. This is the access point to a free trail to ride or jog around.
A great place to go for hikes near Chiang Mai
Huay Tung Tao is also a great place for hiking. There are numerous trails, some well marked with wear and tear, and others that require a guide. Maps and guides can be inquired about at the information office to the right after you get your park tickets. Most trails lead up and around Doi Suthep and can lead you to discover some weird and wonderful things!
Always make sure you have enough supplies and ensure someone knows where you plan to go. There are some dangerous snakes that are known to live on Doi Suthep so be watchful. 
Try zip lining or ride an ATV
The Peak operates its ATV off road riding here at Huay Tung Tao. You can book in advance, or show up and see if they've got any vehicles available. If you show up at the door you should expect a significant discount as transportation is usually built into the price, but you've already got yourselves there!
Can you go fishing at Huay Tung Tao?
Yes, you can! Although you will need your own gear. There is a special section of the lake designated just for fishers. I'm fairly certain it is a catch and release type deal though for non-Thai's. Most fishermen there seem to work for the restaurants and wouldn't be very happy if you were taking their pay day. But it's better to fish for fun anyways, right?!
Stay overnight at the lake with your family
There are actually three sleeping options now. The newest and most modern one being the cottages nestled by the lake. They look adorable and perfect for a small family.
One of the cottages even looks to come with it's own beach! Unfortunately I'm not too sure how much these would cost per night, but you can inquire at the information office if you turn right after getting your park ticket. They appear to be brand new, cozy, and private.
The options from here get increasingly rustic. In the rice fields behind the gorillas there are 4 cabins set up for people to stay in. These cost 600 baht per night and could probably fit three people. If you're looking for a memorable family stay, this might be it! The cabin is in the background of the photo below.
Finally, there is camping. There is a designated camp ground on the western side of the lake. You can bring your own tent and supplies, or sometimes Huay Tung Tao has tents available for rent. This is a seasonal option which is not offered during rainy season (June – October). I believe it costs 200 baht to camp.
The restaurants open at 9 am meaning that if you chose to stay here in any of these options, you could get breakfast here. As for dinner, the latest you can eat here is 6 pm as the lake closes to day visitors then. There are also plenty of washrooms throughout the lake grounds, so there's no need to worry about where to go for any special business!
Is Huay Tung Tao wheelchair accessible?
Actually it is! Part of it is anyways. The U part of the lake that was mentioned earlier is good spot. We saw a woman in her wheelchair there and she got all the way down to the huts and hoisted herself up onto one to enjoy her day. Got wheels? No problem!
How to get to Huay Tung Tao Lake, Chiang Mai?
From the centre of town the lake is only 30 minutes drive away. It's easiest to get there by songtaew or Grab if you don't have your own transportation. However to get home using these methods would require you to walk to the ticket booth to get picked up to return to the city.
With older teenagers you may consider renting motorbikes to head out to the lake. This would allow you to tour around the entire lake and visit all that it has to offer.
If you are driving, that means you may have rented a car or have your own vehicle. To get here is relatively easy.
Heading from downtown go north on the 107 Road until you get to the provincial government offices. At that intersection take the left turn off which will take you to the 121 Road (Canal Rd) where you will turn right. Drive straight along here until you see signs for Huay Tung Tao in your left. Take the second bridge across the canal and follow this road until you get to the ticket booth.
Hours: Open daily from 7 am – 6 pm
Entrance fee:
Foreigners Adults 50 baht (showing Thai driver's license does NOT work to get local price)  Children FREE (but this is at the ticket controllers discretion it seems)
Locals Adults 20 baht Children FREE
Good for ages: all ages
Kids Menu: No
High chairs: No
Playground: Yes
Wheelchair or stroller accessible: Yes (some parts)
Prices: $$
Location: Google Maps
Things to consider
The toilets here are squatters. Learn how to use Thai toilets here!
There is also no place to change babies except in your bamboo hut. 
You'll notice most people swim in their clothes here – you can too! In fact wearing a bikini would bring quite a lot of stares. To change, we recommend just coming in your swim gear as the washrooms aren't always the nicest places to change.
Bring sunscreen and hats too!