Lions, and tigers, and bears, oh my! Take the family to the Chiang Mai Night Safari and take a ride through the jungle
Don't be fooled by the word 'night' in Night Safari. The safari ride at the Chiang Mai Night Safari actually opens during the afternoon ensuring the little ones can see the exotic animals from around the world before bed. There's also a playground and a walking zone to be enjoyed during daylight hours.
We actually prefer the Night Safari to the Chiang Mai Zoo (although it does have its own merits) due to the ability to get so incredibly close to the animals and that everything is in close proximity – less walking!
[sharethis-inline-buttons]
What kinds of animals will you see at the Chiang Mai Night Safari?
The Night Safari Chiang Mai has a pretty ridiculous collection of animals. Check out each section below to see what some of the animals are that you can meet!
Enjoy animals before you even enter the safari
If you are dropped off in parking lot, be sure to keep your eyes out for some giraffes! Right beside the Giraffe Restaurant is a giraffe viewing and feeding area. Here you can pay about 40 baht ($1.30) for some food and have a great time feeding them. Watch out for their tongues! They are long, slimy, and strong.
In the evenings only, further towards the entrance and ticket booth, children can meet miniature horses and donkeys. If you wish, your child can pose riding them for a small donation and on some occasions, even ride the horses for 100 baht (about $3)!
A few steps further, and you can try to make the colourful macaw parrots talk! There's plenty to see even before you get inside the Night Safari.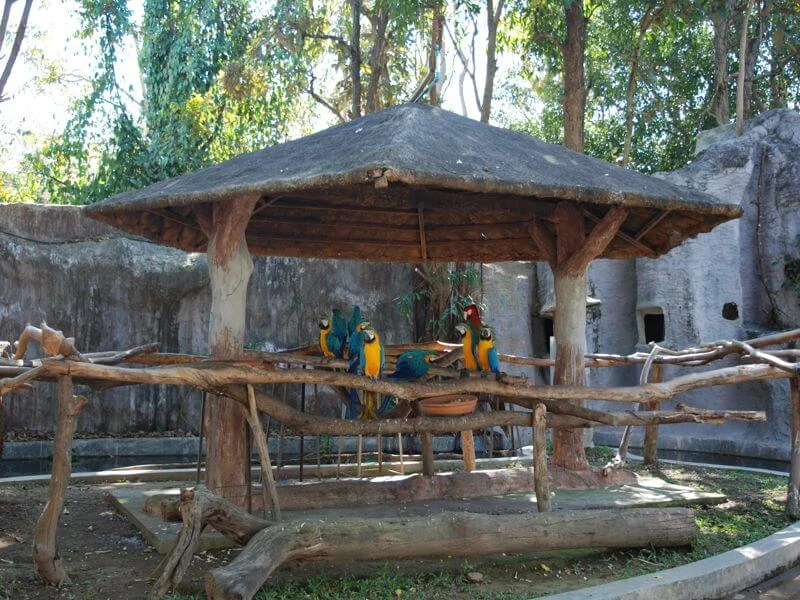 Go on a safari for a fraction of the price
For a family, a real safari can cost into the thousands of dollars. Why not get a taste for around $50? The Night Safari offers three different ticket options, and unfortunately dual pricing is used here.
A great place to get tickets for the Night Safari is through Klook. Check out their deal below:
Thai adult 50 baht
Thai children** 25  baht
Foreign adult 100  baht
Foreign child** 50  baht
*The shows only take place in the evening. There are no daytime shows. Please click on the above links to learn more.
**Children must be 140 cm tall or less to get child price
Thai adult 300 baht
Thai child* 125 baht
Foreign adult 800 baht
Foreign child* 400 baht
*Children must be 140 cm tall or less to get child price
Please click on the above links to learn more.
Thai adult 200 baht
Thai child** 100 baht
Foreign adult 800 baht
Foreign child** 400 baht
*The shows only take place in the evening. Please click on the above shows to learn more. There are no daytime shows so you'll have to stick around after the tram ride. Take a walk around the Jaguar Trail, or play in the playground to kill time.
**Children must be 140 cm tall or less to get child price
How can you get 'Thai price'?
As a foreigner, it is possible to get Thai price. You must have a valid Thai driver's license for yourself. Every family member must show it to get Thai price. Sometimes, they've been known to ask for your child's school ID to prove that they also live in Chiang Mai or Thailand.
Which ticket option should you get?
Well, that depends on many factors and you really know your family better than I do! It also depends on whether you're tourists or living here.
Ticket Option A
If your family is on a budget or goes to the Night Safari often as many expat families living here do, stick with option A. You get to see virtually all of the same animals that are on the safari and then some! The only difference is that they are on showcase in exhibits as opposed to roaming around.
This is the option we normally choose because it gives you access to nearly everything and it's very affordable for a family. We usually arrive late afternoon for a play in the playground and then enjoy a walk around the Jaguar Walking Trail, peek in at the lion zone, and by that time my little ones are tired and ready to go.
Ticket Option B
I wouldn't recommend option A to your family if you are visiting. This is likely your only chance to go on the safari and you should! Remember both safaris are nearly the same, they just take place at different times. Option B is great for older kids who have the stamina to stay up for the shows after the tram rides.
Did you know there are actually two safari rides? One will take your family through the Savanna Safari Zone, and after a short walk, you'll embark on the Predator Prowls Zone.
Ticket Option C
I would suggest that if you have little ones, definitely go for option C. You get everything the same as you would with option B, except you get to see the animals during the day, and if you ask me, that's way better! We've done the tram rides at night and you really struggle to see the animals clearly, although it is still pretty awesome.
Option C gives you the option to stick around for the shows, or if the little ones are tired, to give them a miss. The walking zone, playground and safari rides are plenty of fun on their own! Remember there are two tram rides – the Savanna Safari Zone and the Predator Prowls Zone.
How do you get tickets to the Night Safari?
There are three most common ways to get tickets. The first, is to simply show up and purchase tickets at the door. The second option is to purchase your tickets online, and finally, you can arrange tickets through a tour agency. Booking through an agency comes with extra perks such as round trip transportation and possibly a meal.
Making purchases inside the Night Safari
There is no cash accepted inside the Chiang Mai Night Safari. Instead, you are required to get a top-up card at one of the top-up stations. The first one will be on your right as you pass through the ticket gates.
Load up your card, (1,000 baht will be plenty) and you can now purchase drinks, snacks, coffee and food to feed the animals in one quick swipe! When you're ready to go, simply return to any top-up station BEFORE you exit, and what's left on the card will be returned to you in cash.
The different parts of the Night Safari Chiang Mai
The Jaguar Walking Zone (daily 11 am until sundown)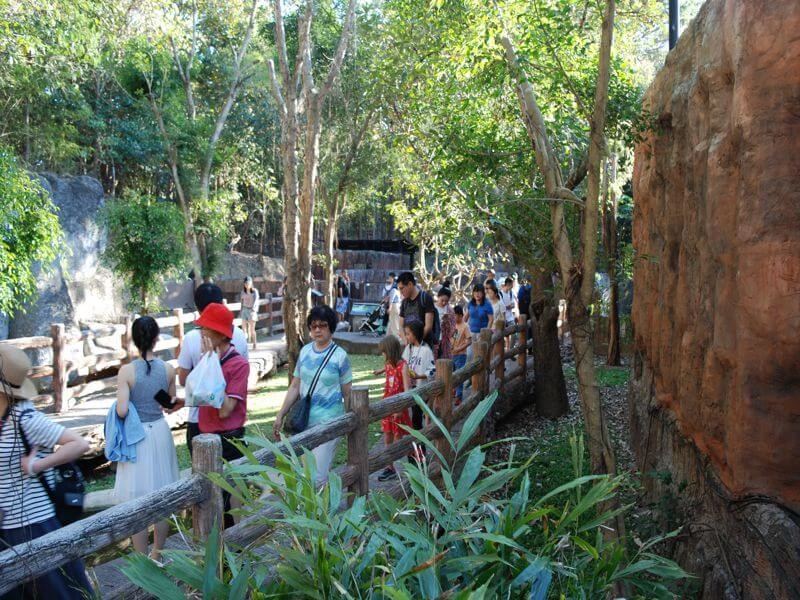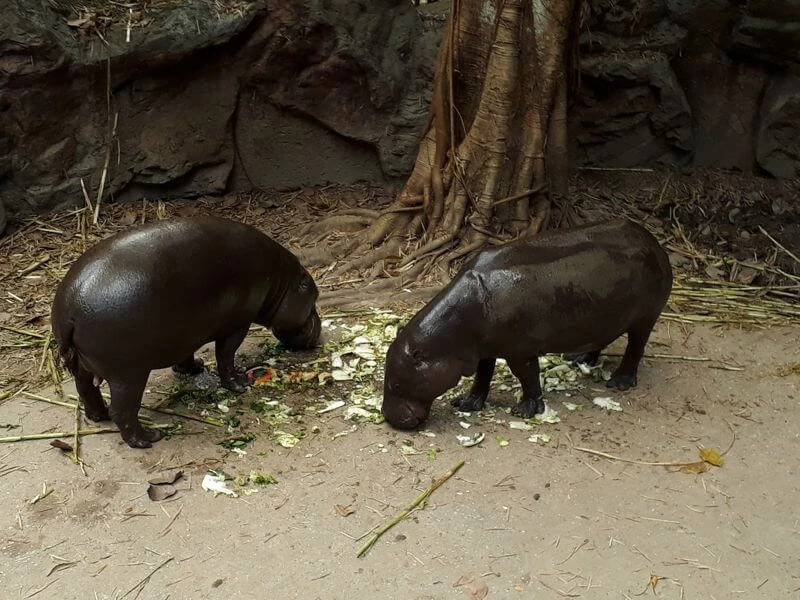 Past the ticket entrance to the left, walk towards the playground. Here you will find the beginning of the Walking Zone. It will wrap around and bring you out on the opposite side near the Predator Prowl Zone safari ride.
It's a nice flat walk which is definitely stroller accessible, although a person in a wheelchair may need some help at some points.
Some of the animals you may see are; pigmy hippos, taipurs, lemurs, iguanas, crocodiles, monkeys, chimpanzees, moon bears, pumas, jaguars, flamingos and so many more!
At the end of the walking trail is the lion or cat exhibit where you can see lions, jaguars, and tigers up close behind a glassed in area. Often, baby tigers and lions will be on display too!
The Day Safari and Night Safari tram rides
You will be taken on two separate safaris if you've purchased ticket options B or C. Each section of the safari includes different kinds of animals ans all trams rides have a tour guide who will give information over a speaker in Thai, English, and Mandarin.
Day Safari trams leave every half hour between 3 pm– 4:30 pm, while the Night Safari trams leave approximately every half hour from 6:30 pm – 10 pm.
Are the trams safe?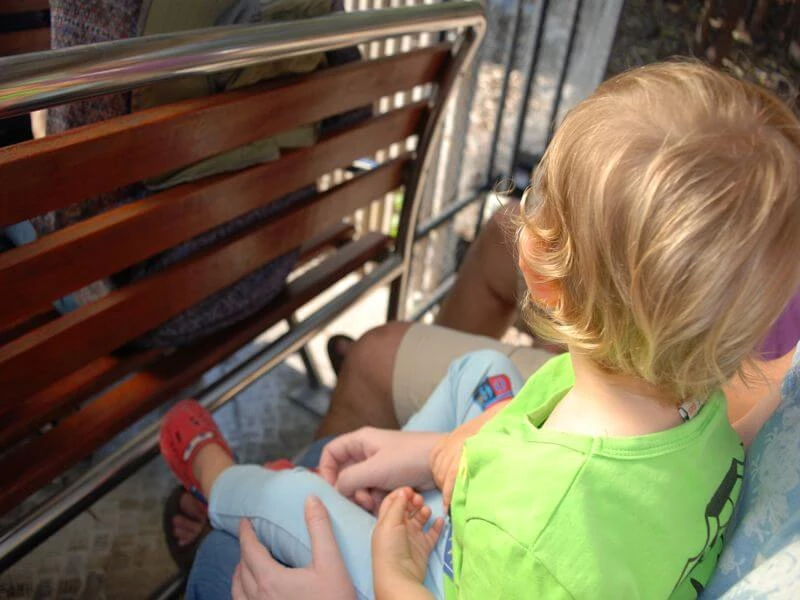 Generally, yes! Kids seem to know to stay inside the tram and when we take our littlest one, we just hold him in our laps and he's fine! The animals also seem to be comfortable about all people, big or tiny.
On this safari you'll see hyenas, tigers, lions, bears and more!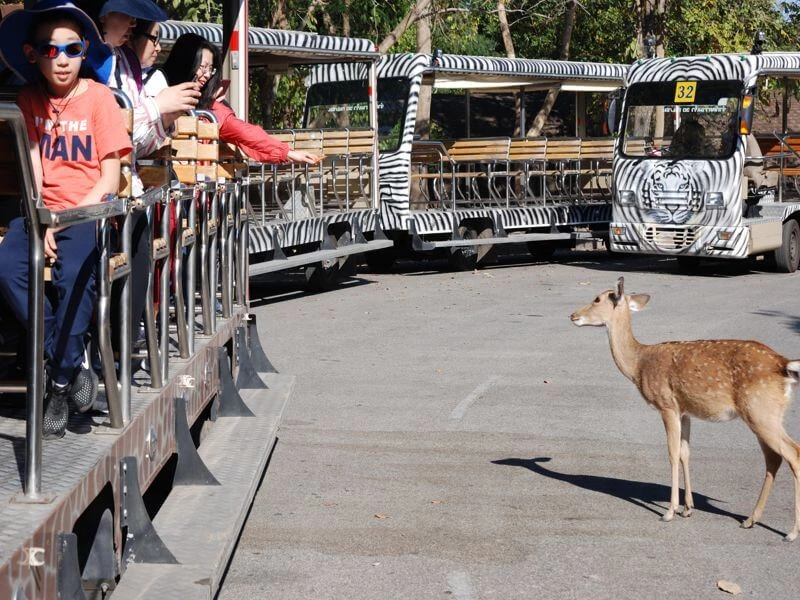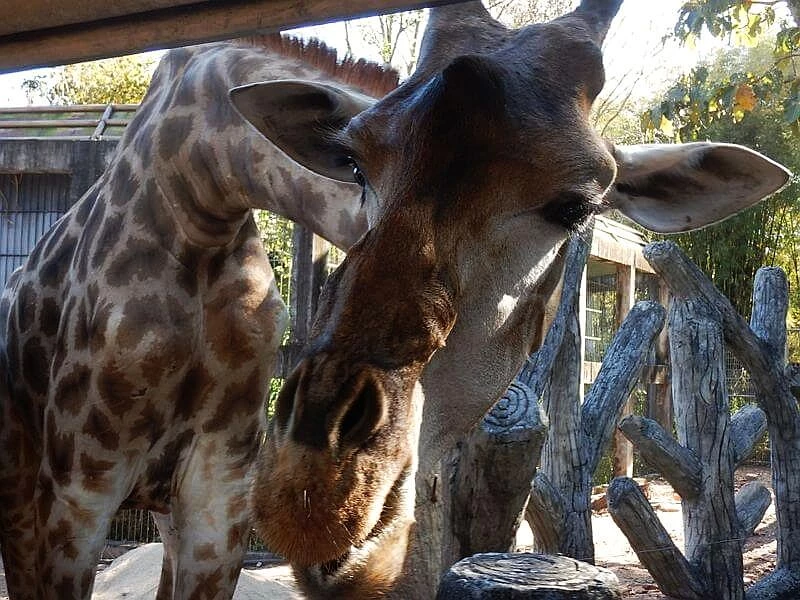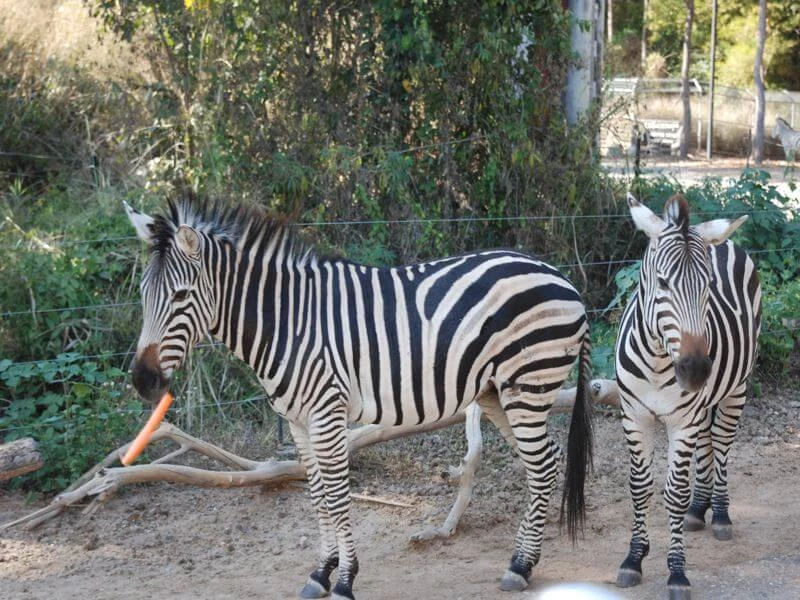 This is our personal favourite because as a kid, I never had the chance to get SO close to exotic animals. It's quite incredible to say, I've just pet a zebra today! Or got licked by a giraffe! Other animals on this safari are wildebeests, bison, kangaroos and more.
Feeding the animals
The animals in this zone are very friendly – and hungry. Before you get on the tram, definitely purchase the basket of food for 40 baht ($1.30). It will make your trip! The kids will get a huge kick out of it – and a lick or two!
I understand people have personal thoughts on feeding animals, although these animals have been tamed and have been brought up to take food from people. That being said, please don't bring your own food to feed them with. Only feed them what is offered for sale at the Night Safari.
Tiger Show (nightly at 6 pm or 7:30 pm. Fri. and Sat. also have an 8:30 pm showing)
In this show you will see white tigers and Siberian tigers put on a show! I've never been, but have heard that the tigers are treated humanely and the tricks are not absurd.
Night Predators Show (nightly at 5:20 pm, 6:50 pm, and 8:40 pm)
This show is more of a meet the animals type where you and the kids can meet a moon bear, an otter, porcupines, a wild boar, hyenas, tigers, and lions.
Creatures of the Night Dance Show (nightly at 6 pm, 7 pm, 8 pm, 9 pm)
So this is one of those tacky dance shows where the staff are dressed up as animals in animal print clothing. Alright, it's not all that bad. The show itself is kind of cute and will make you smile. There's sometimes a fire show and if the elephant is up for it, you can see an elephant up close, but it doesn't always appear in every show.
Kids love this playground! It has a massive rope obstacle climber that spans nearly the entire width of the play area. There are 4 different play structures that cater to all ages plus a mini rock climbing structure. The entire playground is covered so it's always in the shade and the ground is soft rubber padding designed to make falls have soft landings. Also, it never feels crowded as there is so much open space for kids to run around in.
Take a behind the scenes tour of the Night Safari!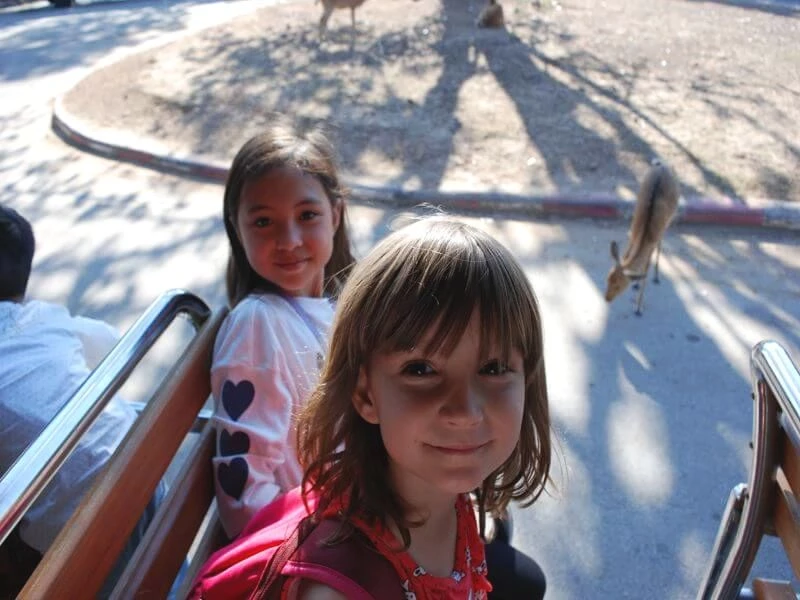 Join in this special activity called Behind the Zoo and actually go behind the scenes. Specially designed for children, participants will learn about the wildlife and learn how to care for the animals in the Chiang Mai Night Safari. Children will get to meet elephants, hippopotamus, bison, white rhinoceros and get to feed the giraffes.
This special activity is only run once per day beginning at 2:30 pm and lasts for one and a half hours. Children must be accompanied by an adult and reservation is required in advance. For reservations and inquiries about costs please contact +66 (0) 53-999-089
Do they take good care of the animals?
Having visited the Chiang Mai Night Safari numerous times over the past 10 years, I would say it's been hit or miss depending on who's running it. However, we recently went in February 2019 and were really pleased with what we saw. All the animals had at least one partner to keep them company, all of their body weights appeared really healthy, and there were quite a few new offspring which is always a good indicator that animals are being well-cared for.
You could always arrange to go on the above Behind the Zoo tour to see for yourselves! The kids would probably really enjoy that.
Eat at the Night Safari
After the safaris, a walk, possibly a play in the playground, and some shows, you're definitely going to have an appetite. Walk over to the Giraffe Restaurant where you can enjoy a meal while giraffes roam just outside your window. Even better, head up to the second floor in the open air and view the giraffes from there.
The food looked pretty reasonable with a mix of Asian and Western food. You can purchase food a la carte or get a buffet, which looked really good with lots of variety.
Stay overnight at the Night Safari
The Chiang Mai Night Safari even offers jungle accommodations on site ranging from 1,800 – 3,000 baht ($57 – $95) per night. The Night Safari is located on nationally protected lands so you can expect to see and hear some exotic wildlife.
There are many accommodation styles available to meet your family's needs. For more information including pricing, please visit their online booking site. 
How to get to the Chiang Mai Night Safari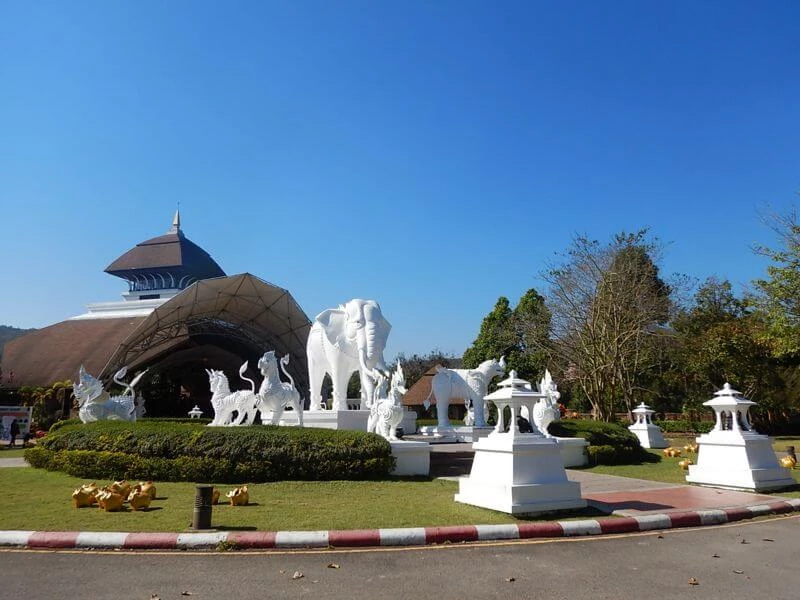 If you've booked through a tour agent, round trip transportation from your hotel should have been included in the price.
If you booked your tickets online through the Night Safari website , then you get a free shuttle bus ride! The free shuttle leaves from Imm Hotel across from Tae Phae Gate at 4:45 pm daily, and also picks people up from the Night Bazaar at 5 pm. The shuttle bus will then leave from the Night Safari to return you to where you got on at 9 pm. Booking your spot on the free shuttle is a must! Call 053 999 000 to book.
Your family can still take the above mentioned shuttle bus if you haven't booked tickets yet, but it will cost 100 baht per person for a round trip fare. You'll also need to book your spots on the shuttle bus.
Getting to Chiang Mai Night Safari yourselves comes with a few options. You could take a songtaew or red truck as all drivers knows where it is. You could flag one down in the streets, or have your guesthouse arrange one for you.
Alternatively you could Grab it or take a taxi if you don't have your own vehicle.
To drive to the Night Safari, head south along Canal Rd aka the 121 Road and keep your eyes peeled for signs. It is well marked. Make a right onto the road that leads to the Rajapruek Royal Flora Garden Park and keep to the left around the roundabout. Take the first exit and drive straight into the Night Safari!
Things to consider
There's plenty to do near the Night Safari! Check out the Rabbit Union to meet and play with bunnies, or visit the Royal Park Rajapruek which are both right next door. You could also relax at the kid-friendly cafe Cup Fine Day near Wat Doi Kham. Head a little bit farther, and you can enjoy a meal in the jungle at the family friendly Baan Suan Cafe.