What are the most popular family day trips from Chiang Mai?
There are SO many places for your family to explore on a day trip around Chiang Mai! Which family day trips from Chiang Mai will be the best fit for your family? Where will you venture on your day trip?
Not to worry as Chiang Mai Family Guide has you covered! We've got the BEST family day trips from Chiang Mai specially curated for you below. These are adventures that we have personally been on and approve them all as top kid friendly day trips around Chiang Mai.
Many day trip tours from Chiang Mai are available through a local tour agency, or you can opt to go it on your own. We recommend Take Me Tour to discover local places. Have a look at what they have to offer! Or you could drive to all of the destinations below. Check out how to get around to see popular options fit for the whole family.
[sharethis-inline-buttons]
What Will Your Family Friendly Day Trip From Chiang Mai Be?
Experience Northern Thailand Life
Experience northern Thailand with this family day trip from Chiang Mai. Take a drive to the locally famous Mae Kampong ancient village and see lush jungle, a waterfall, and walk across a suspension bridge along the way. A day trip out to Mae Kampong is a wonderful family friendly adventure
Hike Through a Natural Wonder
Take a hike through the 'grand canyon' of Chiang Mai Affectionately known as Chiang Mai's 'grand canyon' (although quite a bit smaller), is Pha Chor Canyon. It's located in Mae Wang National Park which is not too far out of town and it makes for a great day trip out of Chiang Mai! 
Go Bamboo Rafting (With or Without Elephants)
Bamboo rafting in Mae Wang is a great fun family adventure! Mae Wang is a subdistrict of Chiang Mai located not far from the city and it's very easy to get to. The Wang river which you raft on, runs through largely untouched lands and you will see beautiful scenery on your drive there and while floating down the river. You'll love it so much you'll want to go again immediately after the trip is over.
Enjoy a Local Hot Spring. Dip Your Feet or Go For a Swim
Way more than just a hot spring, you can even spend the night! A great reason to go on a day trip, this family destination has something for all ages. Adults and grandparents can relax by the hot spring or enjoy a massage. The kids can swim or enjoy the playground. There are plenty of spots for a picnic too. Your family can even stay for the night in one of the bungalows or even go camping!
Take a Kid Friendly Hike up to a Temple
Hike up to this special temple in Chiang Mai. Wat Pha Lat temple used to be a secret. Only those in-the-know knew about it or how to get there. Nowadays, the way to get there is affectionately known as The Monk's Trail. Nowadays trail is marked ad provides a relatively easy hike up to the temple which overlooks Chiang Mai
Visit Beautiful Chiang Dao
A fun day trip from Chiang Mai that is more than just a cave. Explore the depths of the earth! This very popular tourist destination should be on your list of things to do too! Chiang Dao is a small and very beautiful city not that far from Chiang Mai.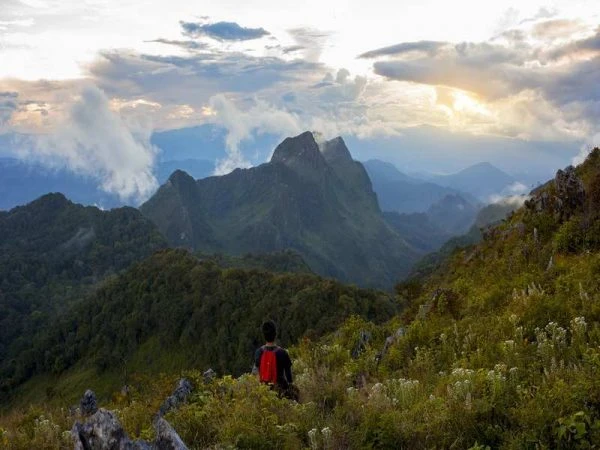 Go Caving (and Maybe See Monkeys) in Mae On
Take the family on a day trip cave experience and possibly see some wild monkeys! Enjoy a hike to a beautiful viewpoint & down into a huge cavern. Muang On Cave offers more than just a journey below the earth. Here you have a chance to interact with some wild monkeys, climb down to the depths of the earth and experience being on top of the world all in one day!
Take a Train to Visit Nearby Lamphun
Does your son or daughter just LOVE trains?! Ours certainly do so we thought we'd take them on their first train ride from Chiang Mai to Lamphun. A perfect little train ride for kids. Take the journey to nearby Lamphun.
Climb Up 'Sticky Waterwall'
An experience of a lifetime the whole family will love! Have you ever wondered what it would be like to be to stick to walls or stand on incredible angles like Spiderman? Are your kids obsessed with PJ Masks? Now they have a chance to see what it's like to be Gecko! Get yourselves out to the affectionately known Sticky Waterfall.
Cool Off at Ob Khan National Park (Psst…it's Free!)
A fantastic day trip to a national park in Chiang Mai for the whole family! A favourite family destination in Chiang Mai for locals and expats alike, Ob Khan national park is only about an hour away from the city. It has much to offer for the day tripper from great picnic spots, to swimming, and hiking.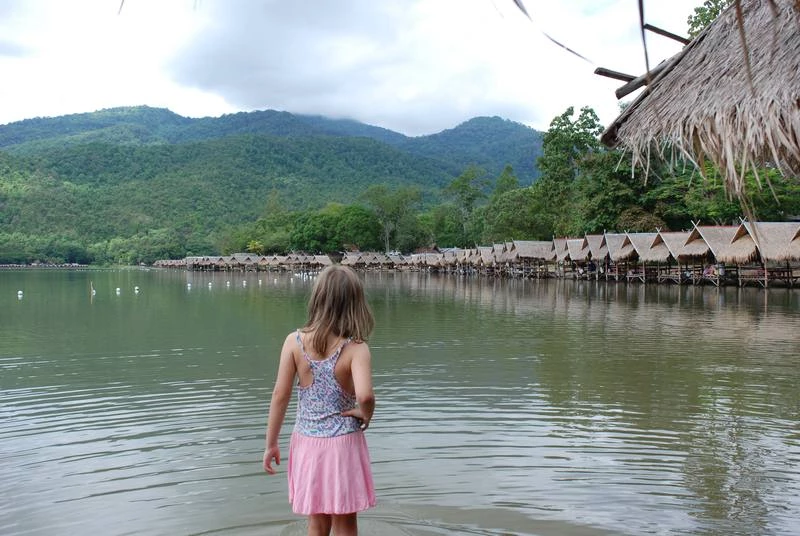 Spend a Day With the Kids at Huay Tung Tao Lake
Looking for the beach?! This is the closest thing to a beach you're going to get in Chiang Mai. Enjoy the day at Chiang Mai's very own lake.  Spend a fun day out with the kids at Huay Tung Tao lake. There is so much to do here you'll find yourself coming back again and again.
Go to Ob Luang National Park
Learn about human history on this prehistoric adventure near Chiang Mai. Crazy about cave men? Fascinated by the stone age? Ob Luang is the place for you! It was, in large part, designated a national park due its ties to human history.