Baan Phurituch Resort Chiang Mai Is So much Fun For Kids!
Outside of Chiang Mai you can find this incredible resort perfect for kids of all ages. Teenagers would love it here too! There are ATVs, there's archery, darts, and basketball. There's even a telescope in a 'treehouse.'
Check out our other personal recommendations in our post about the best family places to stay in Chiang Mai.
[sharethis-inline-buttons]
Why should you stay at Baan Phurituch Resort Chiang Mai?
I suppose we'll begin with the activities. There is SO much to do here. When we stayed we wished we'd stayed at least two nights. We just kept finding more things to do and all of it (except the ATVs) is included in the price.
There are magnetic darts and proper darts around the resort. There's arcade version basketball and above this space is a treehouse with a telescope! How cool is that? There is also a treasure chest full of Nerf guns.
There is also archery and a rubber bullet course where you can shoot at targets or cans. Adult supervision required, but oh so much fun!
Each hut or bungalow comes with its very own sandbox with toys for little ones. The sand is very clean and covered at night.
The playgrounds

Besides the one you see in the first photo, there's also a playground for littler ones. Yes, it does get quite hot during the day in the sun which is why they have this perfect pool.
The swimming pool
It has a small Jacuzzi and water slides for bigger kids and little ones. They had pool toys and life jackets as well. Beside the pool is a shaded and covered area for parents to hang out. The pool is a salt water pool too.
The family room is great!
This was the room we stayed in which big enough for 8 adults! There's more to the room out of the photo. It came with giant stuffed animals, dress up clothes, children's drawing area with supplies and a large bathroom, no bath.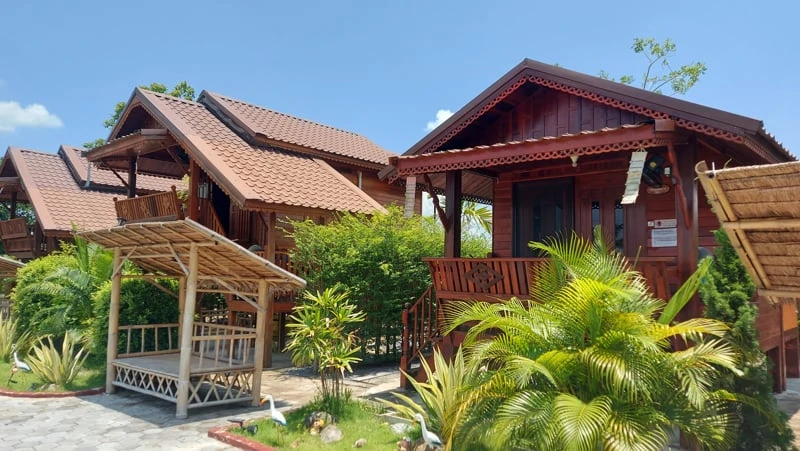 These are the regular rooms. I don't recommend these unless it's two adults and one child and you're comfortable sharing a bed. Otherwise it's just fine for two people.
Other activities
As I said there's SO much to do here! There were 3 ATVs, there are bicycles for all sizes and about a dozen electric cars for kids! My son had so much fun driving around. 
There's a road circuit which circles the interior of the resort. You can see your kids the entire time as they drive around. ATVs for big kids are only 150 for half an hour and 300 baht for an hour. That's a steal!
Rooms prices
Many hotels and resorts in Thailand have their prices fluctuate with the seasons. Prices are highest in tourist season, October to March. The prices we were quoted were around between 1,400 to 4,200 baht per night.
What's the food like here?
The food is Thai food and it's good! They also have typical kid friendly food like French fries, pasta, and chicken wings. Prices  are reasonable and there are drinks on hand too.
It's one of the most fun family resorts to stay at near Chiang Mai
We hope you can make it out to Baan Phurituch Resort on your family travels or adventures. The kids will have a blast!
Where is Baan Phurituch Resort located?
Location on Google Maps.
The resort is located about a 45 minute drive from the centre of Chiang Mai. We suggest that if you are visiting, you may want to rent a car, hire a songtaew, or take a taxi to get here. Otherwise, get that GPS out and get driving!