Art in Paradise Chiang Mai is fun!
Thanks to Covid and other extenuating circumstances, the original Art in Paradise in downtown Chiang Mai, closed its doors and no one knew what was going to happen. Turns out the owners used it as an opportunity to build a new dedicated space for the new Art in Paradise Chiang Mai!
It's a great place to spend a couple of hours taking hilarious and awesome photos with the family.
Have a great time at Art in Paradise Chiang Mai 3D art illusion installation
Sometimes called a Trick Eye Museum, Art in Paradise hosts optical illusion art. There are locations in Bangkok, Pattaya, and Chiang Mai. My kids love going to Art in Paradise so much that we have to go whenever we are in Bangkok or Pattaya (which is actually a fantastic place to go with kids). 
My daughter was disappointed to hear about the original location closing and so was over the moon to learn the new location was open!
The new Art in Paradise Chiang Mai is located within a huge red box at the intersection of the first ring road, the 3029, and the 1006. You can't miss it. There's even a proper parking lot at this location. They've kept the same iconic LOVE sign which makes for awesome photo ops.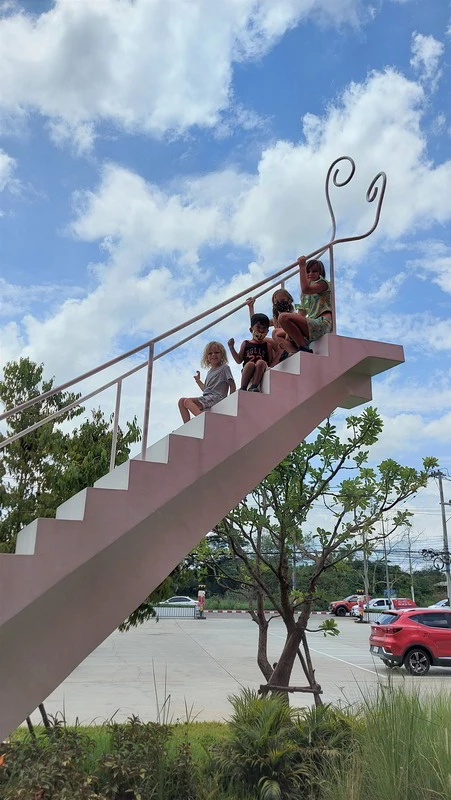 They've added the trending Stairs to Nowhere, which the kids were really into! Not sure what the allure is, but their imaginations seemed to take off! Just be wary that there is no barrier at the top.
Upon entry, you should head the the Art in Paradise Café! It went viral when it first opened as it literally feels like you are in a drawing. It's absolutely amazing how the way the lines are drawn tricks your eyes. The photo opportunities here are endless. You can of course get a drink or snack too! Although, best t do this at the end as not food or drink is allowed inside the actual art installation part. The café also happens to be where your journey through Art in Paradise ends, so it's perfect placement.
Before embarking on your journey, you will be asked to remove your shoes so bring socks if walking barefoot isn't your jam. This is to protect the art work which is also on the floor! Once inside, the first piece of 'art'  you will see is hilariously a GIANT penis! It's the privates of the statue David which causes everyone to squeal, scream and point. It's really quite entertaining.
The majority of the art looks WAY cooler through a lens, so you really must be camera ready. The image above for example, looks nothing like that unless you are looking through a camera. A regular smartphone will do the trick! The optical illusions this time, look better through a camera rather than with the naked eye.
A few of the installations are still the same as before, and in some cases better! The Venetian gondola is one, the shark is still there as is the giant sea turtle and our favourite optical illusion – the chair!
Of course, there are many new art installations as well. They've created an entire upside down house inside Art in Paradise! Similar to the one in Phuket, you snap photos of your family and friends doing ridiculous looking things, then you rotate your photos upside down to get the real effect! It's lots of fun and there's a living room, kitchen, and bathroom to make all your upside down visions come to life.
There is also a new fairly tale themed room which is lots of fun. You can visit Alice in Wonderland, Jack and the Beanstalk, and more. Again, the illusions really pop when you take the pictures. 
Another great themed room is the natural disaster and dinosaur room! Here you can pretend to be Thor, a superhero of your choice, and more! There's so much room for imagination in this room that we went back to it many times.
Surprisingly, the absolute highlight of Art in Paradise Chiang Mai, was the final section. Admittedly it is really cool and must have taken months to build. It's an entire city built out of Lego that takes up practically an tire room! It has a running train that goes into the wall and the city even lights up when it becomes night time! This was the kids' favourite part and us adults loved looking for all the nuances.
Is going to Art in Paradise worth it?
Is it as good as the original Art in Paradise? Truthfully it's a lot smaller. They also don't have that awesome app that made the art come to life and when I inquired, said they don't plan to get it in the foreseeable future.
Another factor is the entrance price. Unfortunately, they have dual pricing (face palm) for adults. Foreigner adults pay 460 baht and children over 100 cm tall are 140 baht. Thai adults pay 260 baht and Thai children over 100 cm pay 140 baht. Children under 100 cm are FREE! IF you have a Thai driver's license or a work permit, you can get in for Thai price.
So is it worth it? If you can get in for Thai price, then I would say yes! It's a good hour of fun, not more than that, and allows you to escape into the air conditioning on hot days or to escape downpours on rainy days. 
The truth is, kids LOVE this place!
As a bonus, you can go through Art in Paradise as many times as you want (as long as you don't actually exit).  
Will we go again? Absolutely and would be happy to tell friends with young kids to go too!
Hours: Open daily from 9 am – 7 pm
Good for ages: all ages
Phone: 052 009 595
Wheelchair or stroller accessible: Yes
Birthday parties: No
Prices:  Adult foreigner 460 baht. Child foreigner 140 baht. Thai adult 260 baht. Thai child 140 baht. All children less than 100 cm tall FREE
Facebook: https://www.facebook.com/artinparadise.cnx
Email: [email protected]
Location: Google Maps